What comes to your mind when you think of products? It can be clothes, accessories, groceries, etc. But today, the definition of products and services changed drastically. You can get products and services online. So, no binding to brick and mortar anymore.
You can get everything online now. Think about digital products. These are the products that you can't touch, just use them at your easiest convenience. Music, ebooks, web development service, blogging, online courses, and writing are some bright examples of digital products.
The trade-off of digital products can be online or offline. Depending on digital products can be sold through a specific platform or with the help of a self-website.
Well, if you are a digital product seller and looking for core platforms to showcase, sell and earn cash through a platform, then you have come to the right door. Looking for a platform to sell digital products? Let's get a ride on the best platforms waiting for you.
Overview of All Platforms
| | | |
| --- | --- | --- |
| Platform | Best Uses | Payment Gateway |
| Shopify | Support small to big e-commerce sites to sell physical and digital goods | Direct or external provider. Supports more than 100 credit cards providers |
| MultiSaas | Designed to meet the diverse needs of modern businesses | PayPal, Amazon Pay, Google Pay, 15 many others. |
| Zaika | Offers an intuitive interface, seamless integration capabilities, and a robust set of features. | Paypal, Stripe, Paytm, Flutterwave Rave and Razorpay 10 more. |
| Podia | Support digital products like downloads, ebooks, audio | Stripe and PayPal |
| Gumroad | Both digital, tangible/physical products and the memberships as well. | Stripe |
| SendOwl | Digital, physical products, and subscription | PayPal, Stripe, BitPay |
| PayHip | Both digital and physical products with different shipping options | Stripe, PayPal |
| BigCommerce | Digital and physical products | PayPal, GooglePay, Venmo, Stripe, Square, and others |
| Techables | Online courses, tutorials, exams | PayPal, Stripe |
Best Platforms to Sell Digital Products
MultiSaas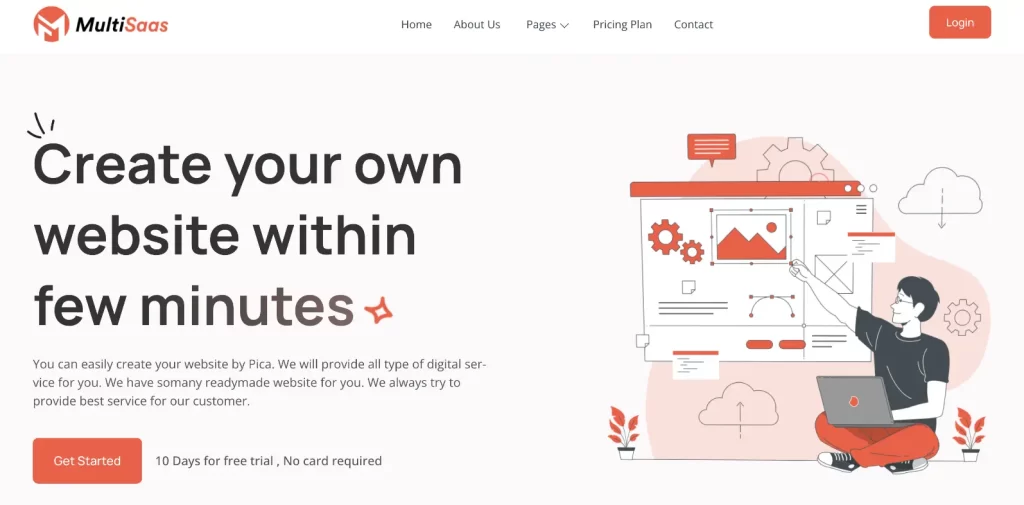 MultiSaas is a cutting-edge Multi-Tenancy Multipurpose Website Builder. Designed to meet the diverse needs of modern businesses, MultiSaas reshapes the way you approach web creation and management. It use Separate Database for each Tenants, so that your website load fast. Also has option to add custom domains. automatic subdomain creations and much more. Dive into an era of infinite possibilities and boundless creativity. Why make MultiSaas your first choice?
One Platform, Endless Opportunities
Dynamic Multi-Tenancy
Limitless Customization.
Growth-Oriented.
Rock-Solid Security.
There is no doubt that Shopify is the best platform for e-commerce sites to sell their products. Any business can start with Shopify. Why do businesses love to enter this platform? Because it needs no extra background to start with.
You can choose templates, edit, add your products, and start making money by selling. What types of products are supported by Shopify? It can be tangible like regular products like shoes, clothes, and digital products as well.
Here you can also sell your services-virtual or physical. The best worldwide digital products of Shopify are ebooks, music, and videos. 
Is it costly? Not really. You can start this big e-commerce ecosystem for a 14 days trial. Then go for basic, intermediate, and advanced monthly plans at your ease. The basic plan is the thriving one- which costs 25$ /month.
It is scalable
easy to work with for all businesses and individuals
Great support team which is available 24/7
Promotes point on sale(POS) like storefronts.
For online businesses, Bigcommerce can be an easy option. You can use its amazing features to sell both digital and physical products at a time. The SEO element of this platform makes it one of the best-selling platforms in comparison to its competitors.
Not only virtual shops but also physical stores can get benefits from BigCommerce. The gigantic online business loves the perks of it. No need to be an expert in code languages. You can drag and drop your templates and start with website building. There is an abandoned cart saver tool in the features.
No transaction fees. Good news for the third-party integration that requires no extra effort. Memberships, and downloads, are digital products. You can go for the free trial version for 15 days. Then if you like, go for the standard at 39$/month, plus-115$/month, and Pro 399$/month.
The affiliate marketing of Bigcommerce is nailing. It by default integrates Pinterest, Facebook, etc. In the case of customization, you can do it in full swing.
Edit your header, title, and URL. But in case of the third-party integration, your system needs to be updated all the time. More than 4500+  brands use this Bigcomerce. It's a right fit for the businesses. 
A big enterprise plan
100+ apps integrate to support the newly launched store.
Great support
Control on the user's hand
Zaika
Elevate your online business to unparalleled heights with Zaika, the premium Laravel eCommerce Content Management System (CMS). Rooted in the power and flexibility of Laravel, Zaika offers an intuitive interface, seamless integration capabilities, and a robust set of features tailored for the dynamic world of e-commerce. It has 2 home page variant which fit anyone needs for showcase your small/medium/larage ecommerce business website. It's also highly customizable and comes with many awesome features. Why choose Zaika?
Simplicity at its Best.
Scalability & Performance.
Highly Customizable.
Security & Trust.
Integrated Solutions.
Dedicated Support.
Podia is the best choice for selling online courses, memberships, downloads, webinars, and many more. The top-notch feature of Podia makes it different from its competitors. You can also start making your online store to your taste.
Does it need any coding background? No. The website builder interface of this platform comes with lots of options and features. And the extra features are not costly. It is the same for all customers. Of course, Podia comes with two pricing plans.
But these are reasonable. When it comes to digital products, Podia makes the products always happy. As a producer, you can sell the ebooks, courses, audio, etc. The community feature is another neat approach for sellers. They can build a high-end community addressing their customers and digital products.
It makes a bridge between you and your customers. So, all good things happen in Podia, if you know how to use it. And using the Podia is too easy. The monthly plan starts at 39$. They named it a mover plan. Another one is the shaker plan which is more premium and 79/month. Don't worry this plan includes all the unlimited features for you.
Cheap and easy to sell your digital products
Promising 24/7 customer services
Friendly UI.
This platform allows you to sell all your digital products, physical and subscription. It prioritizes the creator's choice and helps them to do well in their business. But you need to keep in mind one thing. What's that? You have to pay a processing and transaction fee in Gumroad.
The free trial is available for you. Music, art, audio, and downloadables are all is easy with Gumroad. However, you can not only just sell your products through the landing pages but also promote them with social media platforms. 
The UI is friendly for both sellers and the producers. It uses Stripe to process all its payment processes. As a customer, one can pay with a debit or credit card. Paypal is one of the active payment gateways in Gumroad. Email marketing and affiliate marketing are one of the nifty features of Gumroad. Almost there are 4500+ creators right at the moment utilizing Gumroad for their product selling.
No coding
Affiliate with others to sell the creators' products
Customization of the checkout pages
You can ask for support from the Gumroad team through email
Payment type-single product or subscription
With SendOwl, you can make your digital products vocal. How is that? SendOwl comes with email marketing, multiple languages, and easy checkout templates. What sorts of digital products can you sell with SendOwl? You can sell ebooks, audiobooks, memberships, online courses, online tickets, and photography at your best. As a seller, you can customize your branding page, also add shopping carts to your website to make your business go smoothly.
Another best site for SendOwl is incorporating the other plugins. For example, you have made your website with a WP plugin, or Drupel. Now you can link SendOwl with these websites. So, using the SendOwl features to make your website more powerful is possible even with another site.
You can smartly sell your digital products with SendOwl. Add download limits for unauthorized sharing of your digital products and send product information/updates to your community with emails. What about the payment options? There are three systems-PayPal, Stripe, and Bitplay. 
SendOwl is an affordable platform for sellers and creators. Because it has no transaction fee and allows you to blend discount and promo codes. You can judge this platform with a 30 day trial. The packages start with a basic plan-4$/month, a Premium Plan for 24$ per month, a business-39/month, and a standard plan-15$/month.
Analyze the selling reports
Mobile-friendly checkouts
Customization is easy and quick
Strong authentication system
Great support team
An e-commerce platform designed to sell digital products grossly but also permits the selling of physical products. You can fully build your website to sell the products with this platform. Customization of themes, and templates that makes your website way more appealing.
Not only just customizing the templates before publishing. You can start editing the published posts as well with the site editor. Well, that's amazing. It is also GDPR compliant. You give a tour to Payhip with a free trial but once you buy the plan, you need to remember about the transaction fee.
 What are the products supported by Payhip? Software, music, memberships, ebooks, digital downloads, online courses. You can get a broad overview of your sell posts, products, and checkouts, conversions in Payhip. So, the reporting system of Payhip is noteworthy.
What about the payment gateways? PayPal and Stripe are available. You can get email marketing, and blogging options here. The Payhip allows the integration of the other websites but the SEO tool is not present. Add discounts and coupons to your website. It supports only one default language.
Easy to use
Free plan
The support system is good but email response time is lengthy.
It is a core platform for online courses. You can sell your video, and lectures with teachable. There are wonderful tools to make your courses amazing. Customization options are nailing.
Promotions and coupons are the extra perks of Teachable. It's not only easy to use for the sellers but also for the students who enrolled. Google Pay, Paypal, and Stripe are the payment gateways. 
If you are a basic user, then there will be no transaction fees. But with professional planning, you don't need to pay that 5 % fee. Multiple instructors can deal with the Teachables. So, it is best for selling online courses, and memberships, but not for downloads.
Has a free trial option for 14 days
Great for teachers and learners
But customization options are a little limited.
Last Word
So, if you are looking to make money by selling your digital products online but are not sure of where to sell them, the above platforms are definitely considerable. You can pick according to what you have both digital and physical products. Each of the platforms has some downsides and good sides. Better know about your products and your strategy to align with the best selling platform!